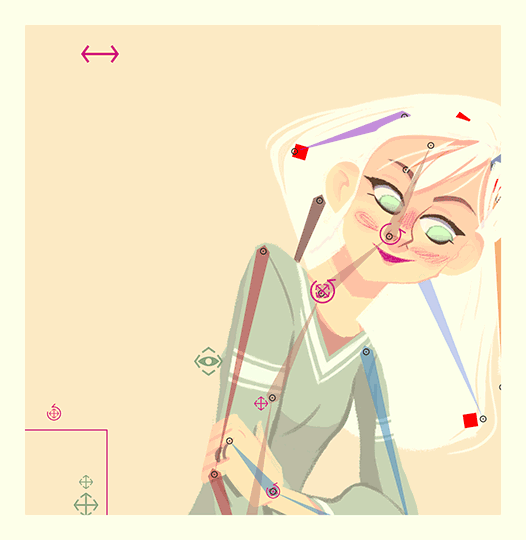 What is Duik?
Duik is a comprehensive animation and rigging tool set for Adobe After Effects.
It provides the main rigging tools, found in any 3D software, like IK, controllers, and bones, but adapts them to 2D animation in After Effects. With Duik you can rig complex characters and use advanced animation techniques usually used in 3D software. If you do not know what rigging means, it may be because it is a bit too soon for you to use those tools. Please refer to the section entitled Should I use Duik? in the documentation.
Duik has plenty of animation tools too – managing keyframes and interpolations, traditional animation, animation exposure, etc. – and automation too, like wiggle, spring, swing, wheel, etc. which allow you to animate more quickly and easily.
Duik also has some other useful tools, such as camera controls, that are not solely tied to animation but can be really useful for both animators and riggers.
Duik's comprehensiveness and ease of use have made it a script used in numerous movies across the world.
Certification
Demo
Get it now!
Newsletter
Subscribe to our newsletter to stay updated about what we do, to be notified about new tools, new features, and updates.
We hate spam too, and we prefer to do our job than writing and sending newsletters, so you can be assured we won't be annoying. Just make sure the confirmation e-mail you'll get don't end up in your spam folder by adding news@rxlab.info to your contacts.