The comprehensive rigging and animation tool set for Adobe After Effects.
This page is about the future version of Duik, Ángela (17.0) and its Beta Test. The current stable version is Duik Bassel.2 (16.2) and it's available here.
Duik Ángela
Duik's comprehensiveness, ease of use, and 14 years of continuous development have made it the leading and the industry standard tool for character animation with After Effects.
It provides the main rigging tools, found in any 3D software, like IK, controllers, and bones, but adapts them to 2D animation in After Effects. With Duik you can rig complex characters and use advanced animation techniques usually used in 3D software.
Duik has plenty of animation tools too – managing keyframes and interpolations, traditional animation, tweening, etc. – and automation too, like wiggle, spring, swing, wheel, etc. which allow you to animate more quickly and easily.
Duik also has some other useful tools, such as camera controls, that are not solely tied to animation but can be really useful for both animators and riggers.
Ángela Salazar
Ángela is the name of the 17th version of Duik. After Duik Bassel, the 16th version, this is the second time a new version gets an actual name, and as for Duik Bassel, we've chosen a meaningful name.
Ángela has been chosen after Ángela Salazar. María Ángela Salazar Murillo was a Colombian activist of African descent, member of the Commission for Truth.
Beta test
Duik Ángela is still in active development, although it should be available quite soon.
To prepare it's release, we've started testing it with the backers of the latest crowdfunding campaign, and RxLab. members.
There are two concurrent Beta versions available: The public Beta, and an Early Access version, which we give to our sponsors to thank them.
If you'd like to join these tests right now, you just have to choose a membership! All of the options give you at least an early access to all our tools.
We also need more donations to fund our work on free and open source software. You can donate now, the amount of your choice, what you can afford, what you think is right.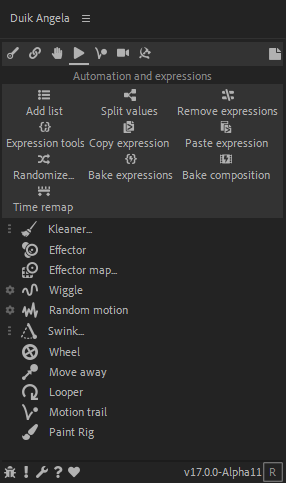 New in Duik Ángela
This new version of Duik is a complete re-write of the previous version. The user interface has been completely revamped, and every little bit has been improved.
But more than that, a lot of new features have been included, which makes Duik even more comprehensive than it's always been.
As Duik Ángela is still in active development, you can read the complete changelog to learn what's new in details, before we introduce the main new features here. We're updating this changelog in real time as the development goes on!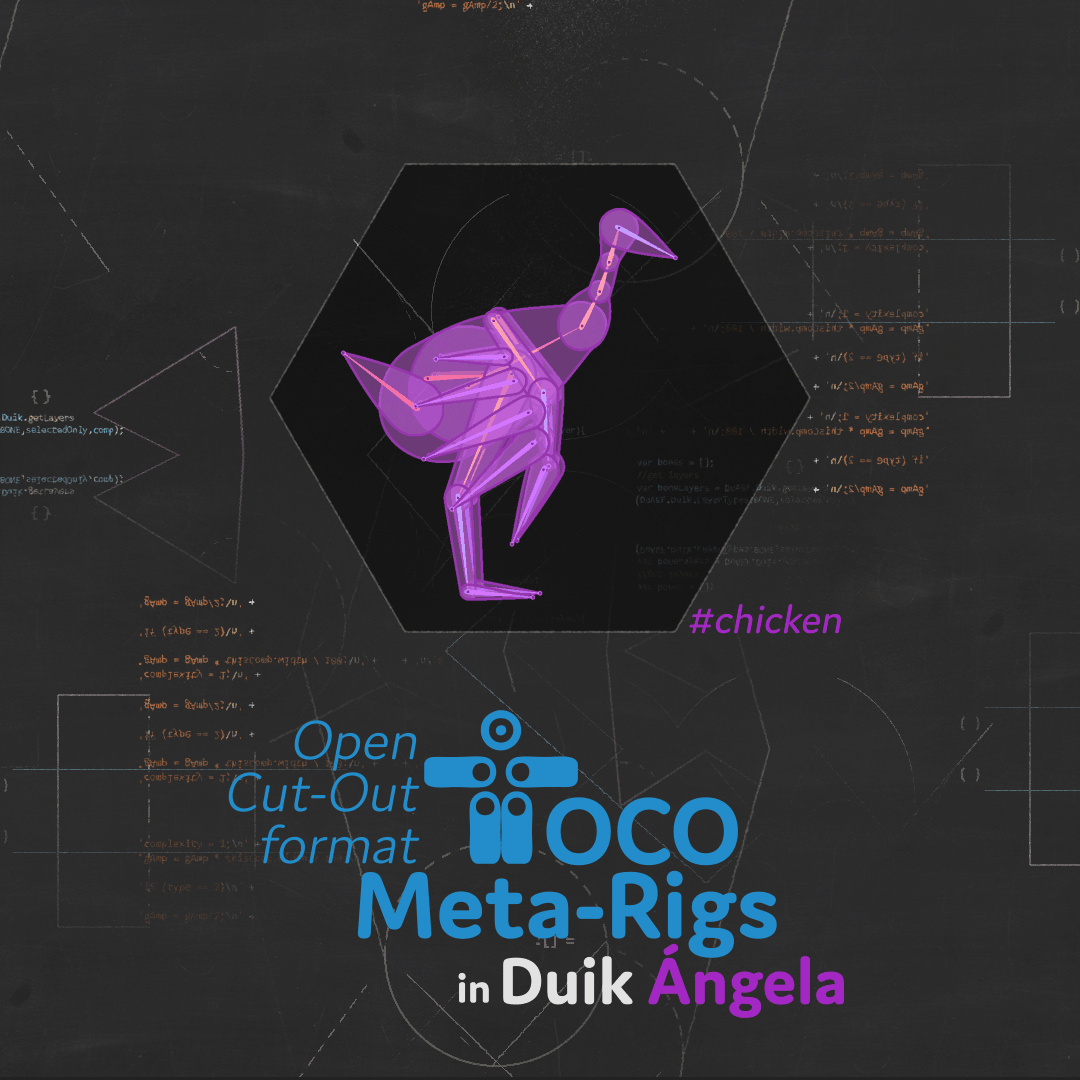 OCO Meta-rigs
OCO is the Open Cut-Out format: it's a new format RxLab. is developing, used to export, share, and import character rigs dedicated to cut-out animation as it's done in After Effects.
With the support of OCO, Duik now also includes a lot of Meta-rigs, predefined armatures you can use to rig an entire character in a few clicks, thanks to the almighty Duik Auto-rig.
New procedural walk & run cycle
Because you don't always have time to perfectly animate (secondary) characters, or for a kickstart of your animation you can detail later, we've added a procedural walk and run cycle to Duik. You can customize the cycle with a lot of easy-to-use and intuitive parameters, like the energy of the character, or it's speed…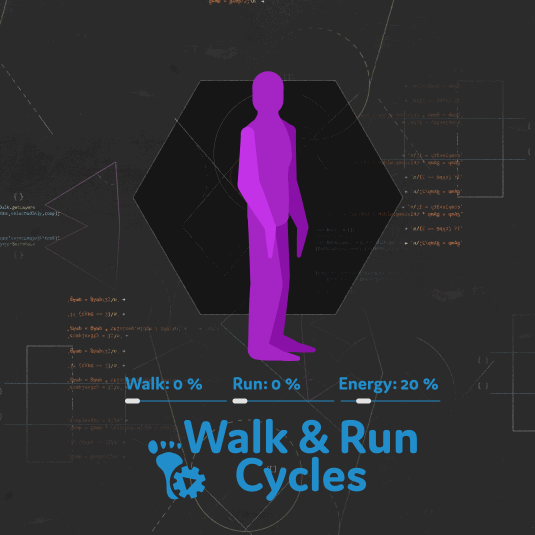 Back us now!
We strongly believe that emancipation, free sharing and helping each other will make the world a better place for everyone.
We work in a non-mercantile way, there's no ads, you're not the product, we don't track you.
We rely on your voluntary donations. It's not mandatory, but it's much needed. Please, donate what you can afford, what you think is the right amount.
Certification
Shop
Buy some Duik related products in our shop: make yourself and your friends a great gift while supporting free software development! Browse the store for more products.
Newsletter
Subscribe to our newsletter to stay updated about what we do, to be notified about new tools, new features, and updates.
We hate spam too, and we prefer to do our job than writing and sending newsletters, so you can be assured we won't be annoying. Just make sure the confirmation e-mail you'll get don't end up in your spam folder by adding news@rxlab.info to your contacts.