Cette page est disponible en français.
Join a worldwide community of advanced users of Duik, and show your expertise with the certification label for experts or instructors.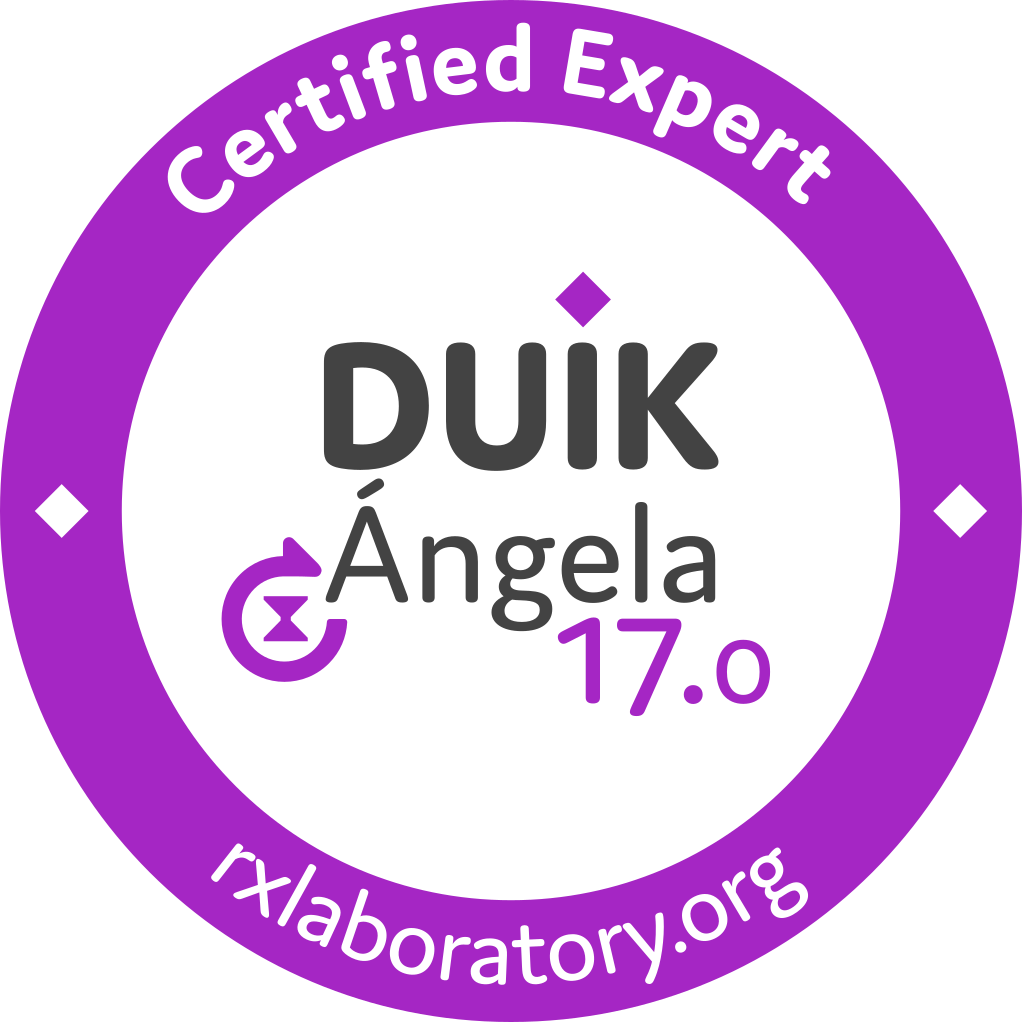 Duik Certified Experts have an in-depth knowledge about Duik, Adobe After Effects, character rigging and more generally what is needed to achieve the best animations.
Duik Certified Instructors are also certified experts, and adhere to strict guidelines in order to provide the best training experience about Duik, After Effects and character rigging to other professionals or students.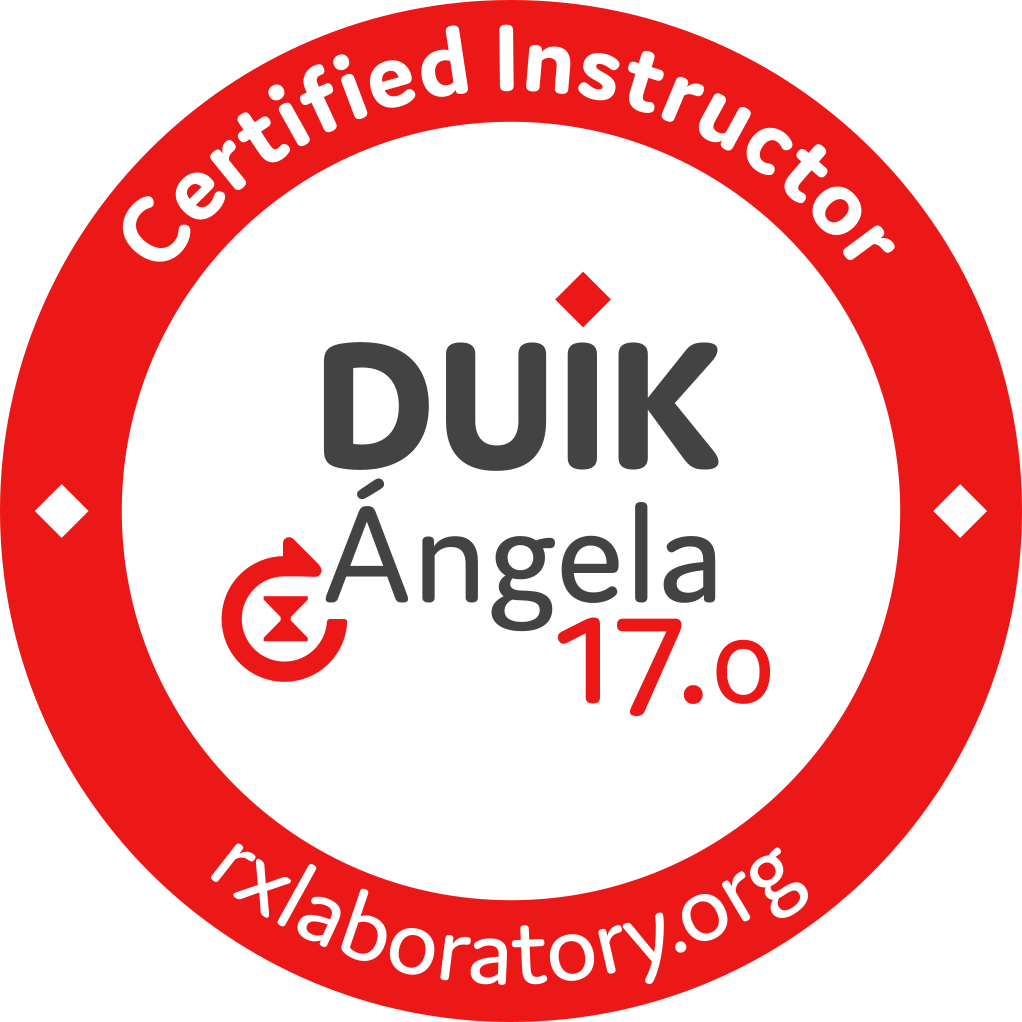 Program Benefits
Duik Certified Expert or Instructor digital badge
Use of Duik Certified Expert or Instructor logo (on your website, your tutorials, your documents…)
Listing and contact form on Duik Certified Experts and Instructors page on rxlaboratory.org and carpemedia.fr
Access to a private online community and chat channels gathering all experts and instructors
Program Requirements
Duik Certified Expert
Proof of 2+ years experience as an After Effects expert and Duik user (demo reel, resume, Adobe Certified Expert or Instructor…)
Pass the Duik Certified Expert exam.
Duik Certified Instructor
Pass the Duik Certified Expert exam*.
Pass the Duik Certified Instructor exam*.
*Both exams must be passed with the same version of Duik.
Recommended Qualifications
At a minimum, the candidate seeking to become a Duik Certified Expert or Instructor should:
Have a minimum of 4 years of experience using After Effects
Have a minimum of 1 year of experience using Duik
Complete training courses for Duik or self-study training
At a minimum, the candidate seeking to become a Duik Certified Instructor should also:
Have a minimum of 2 years of experience of teaching, ideally with a focus on After Effects or Duik.
Exams Information
Certified Expert
In Lille, France or online
French or English
Duration: 1 day
Two phases: questions (1h), exercises (6h)
Price: between 50€ and 200€ depending on your country.
Certified Instructor
In Lille, France or online
French or English
Duration: 1 day
Three phases: questions (30mn), exercises (5h30), interview (1h)
Price: between 50€ and 200€ depending on your country.
Exams Objectives and Scope
After Effects
Have an in-depth knowledge about After Effects with a focus on motion design, rigging and animation: parenting and coordinates, precompositions, performance issues, expressions, shape layers, animation and graph editor, puppet tool, installing and using scripts.
Write simple and advanced expressions (using conditions, interpolation functions such as linear(), using variables…) working with all the languages of After Effects.
Animation
Realistically animate any object with weight and momentum, follow through and overlap.
Know the basics of character animation such as anticipation, staging, follow through, overlap…
Duik
Rig any animal or mechanic (biped, quadruped, insects, fishes, trucks, excavator, gears…)
Rig faces, including mouth shapes and phonemes, head turn, expressions and eye blinks.
Rig clothes, folds, hair, and all props.
Understand and use all constraints.
Use and tweak all automations, especially the kleaner, the randomize tool, the walk cycle, the effectors…
Master the connector and all kind of connections
Blend animations with the animation blender
Master camera animation
Understand all tools available in Duik
Certified Instructor
Know the details about the free license of Duik (GNU GPLv3)
Translate or modify the translations of Duik
Install, fix, uninstall Duik
Be able to find detailed information about Duik and any of its features
Provide an extensive educational support
Create precise and reliable pedagogical content and teaching materials
Recommended Sources for Exam Preparation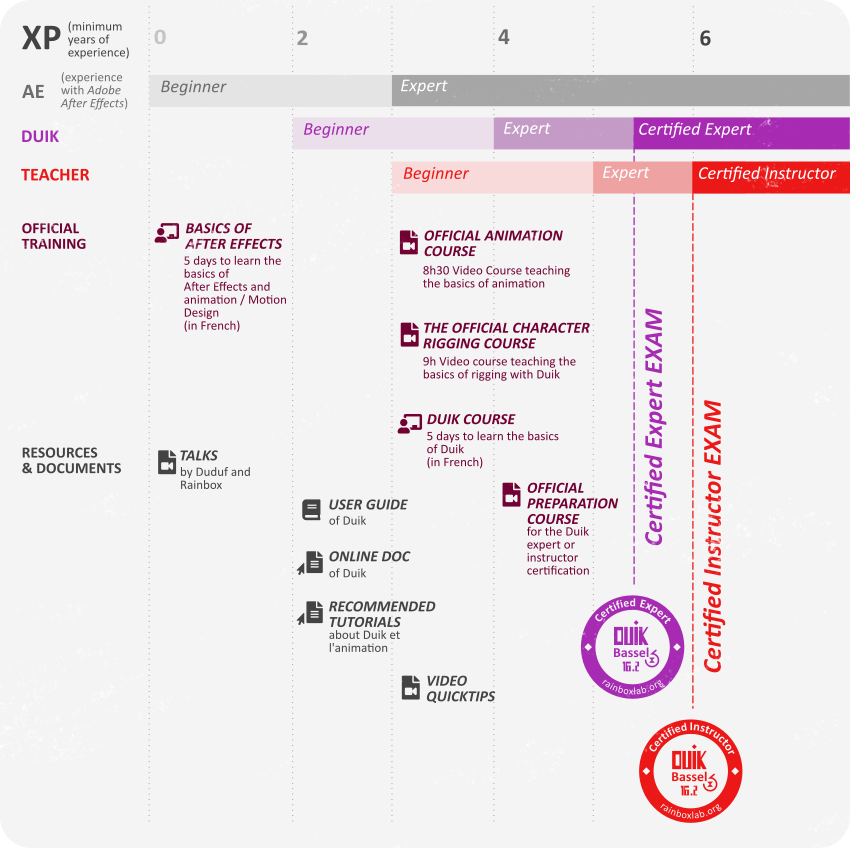 If you are already experienced with After Effects and you already know the basics of Duik, we provide an official 4-day preparation course, optionally including the exams for the expert and instructor certifications during a 5th and 6th days.
This course can be followed face-to-face or online, in partnership with Carpe Media.
Note that this course does not provide all the knowledge needed to pass the Duik Certified Expert exam, and you'll need to continue learning Duik, gain more experience, or follow the official preparation course to complete your knowledge.
Still have some questions about the Certification Program? You will probably find answers in the FAQ here.
Apply Now / Get more Information